WORKING REMOTELY? WE HAVE YOU COVERED
As more companies make the necessary transition to a remote workforce, it becomes essential to maintain efficiency within procure-to-pay (P2P) order-to-cash (O2C) processes as well as communication with customer and suppliers. In every country where Esker is present, we're equipped with the infrastructure, solutions and support to help our customers and partners effectively manage their unique working requirements and environments.
MAINTAINING BUSINESS CONTINUITY
For many companies, Esker represents an essential critical infrastructure that enables them to remain operational during times of unprecedented change. Fortunately, Esker's Business Continuity and Security teams have well-established support plans in place to give our customers peace of mind. These include:
Persona Block Text:

Cloud-based platform with 24/7 availability that's not location dependent, enabling support to all customers and partners from remote environments

Persona Block Text:

2 independent operational centers in different locations to continually monitor the operational continuity of Esker's platform

Persona Block Text:

Customer support sites in 3 countries, allowing us to maintain global coverage

Persona Block Text:

Esker Services availability to continue to support and deliver services to all of our customers
ENABLING CONTINUED P2P PRODUCTIVITY
Even in moments of great uncertainty, finance departments have a responsibility to continue to — among many other things — approve invoices, effectively manage cash and maintain positive relationships with suppliers. Esker's P2P platform helps them rise to the challenge. Not only do P2P users have access to a supplier portal that enhances supplier/buyer collaboration and supply chain performance, the Esker Anywhere™ mobile app allows users to carry out the following actions even while working remotely:
Track statuses of purchase requisitions & expense reports
Approve, hold or send invoices back to previous approver
Monitor KPIs from a customisable dashboard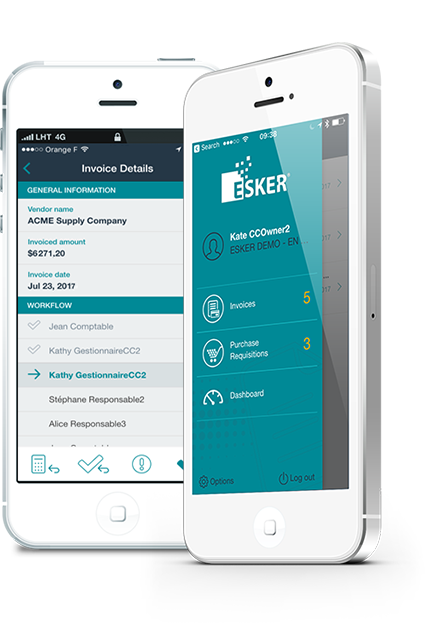 "The visibility and accountability Esker delivers is invaluable. Even if somebody is out of the office, invoice approvals can be done anytime, anywhere with Esker's mobile application."​
Assistant GM │ Star Media
ENSURING O2C EFFICIENCY REMOTELY
Similarly, O2C leaders have a critical commitment to uphold — the right orders still need to get to the right customer at the right time. Furthermore, cash collection cannot cease simply because operations are now remote. Esker's O2C solution plays a vital role enabling businesses to continue managing all customer interactions in a single platform. This is achieved through:
Esker Anywhere™ Mobile App which allows users to monitor KPIs & place/track orders from the palm of their hand
Self-service customer portal which enables customers to place orders, resolve disputes, etc. anytime, anywhere
End-to-end connectivity between all applications, enabling collectors, customer service & AR managers to perform critical tasks in real time & without delays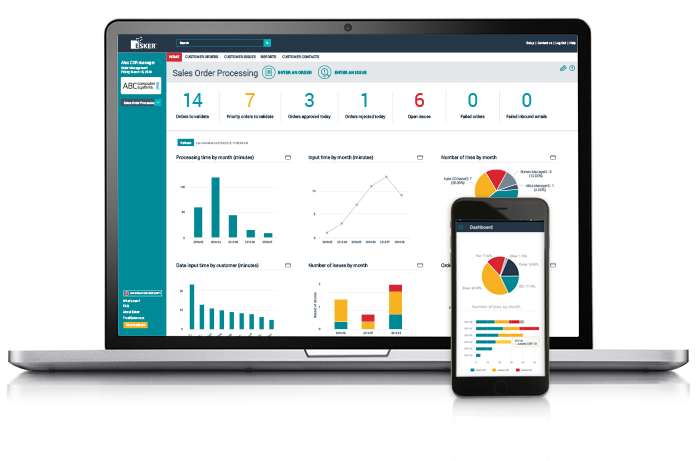 "With Esker's order management solution, our team is more proactive and capable of handling change than they were before."
Sr. Director of Operations │ NVIDIA Corporation
MAIL DOCUMENTS FROM THE CLOUD — ANYTIME, ANYWHERE
Working remotely is not exactly an ideal situation for sending out large batches of customer invoices and other time-sensitive documents. Esker Mail Services offers a better way. With the touch of a button and 100% compatibility, documents can be mailed directly from the cloud, from wherever or whenever you're working — saving time, money and peace of mind. Real-time updates related to each of Esker's global mail production facilities are also provided in regard to the actions planned or those already in place relative to the associated threat levels.
 
ASK US ANYTHING
We're all in this together. If you have a question for us, please don't hesitate to ask.

You're in good company. Explore some of the other companies and AP leaders that have benefited from automating their processes with Esker.