WHAT IS PEPPOL (InvoiceNow) E-INVOICING?
Organisations that leverage automation performs better than those that don't. That is why IMDA implemented the nationwide E-invoicing network in 2019 to help businesses improve efficiency, reduce cost and enjoy faster payment.
InvoiceNow also known as Peppol (InvoiceNow) allows an invoice to be sent digitally between the systems directly of your suppliers and buyers. The invoice is sent automatically to your supplier and customer's backend systems through a secure network and a standard format (Peppol InvoiceNow) therefore, it's seamless. 
How does Peppol (InvoiceNow) e-invoicing help your business?
Businesses are encouraged to adopt Peppol (InvoiceNow) e-invoicing initiative which will standardise the format of invoices and will benefit from:
Easy information retrieval


No more lost emails or hard copies. Peppol (InvoiceNow) e-invoicing will ensure delivery straight to other party's system.

Work internationally


with other businesses that are also registered on the platform, allowing business outreach.

Get paid faster


Enjoy faster payment cycles when you make it easier for customers to pay you with all relevant information readily available.

Reduce operational cost


With e-invoicing, businesses can automate and streamline their processes. Invoice data can be captured, managed and maintained effectively and efficiently with minimal labour and time required.


​
"By shifting to e-invoicing, the company significantly optimised its finance workflows, shortening processing time to just three days. Instead of being bogged down by paperwork, staff were now freed up to engage in more meaningful, client-fronting tasks—driving up productivity for the company as a whole"
Fujifilm Business innovation InvoiceNow Case Study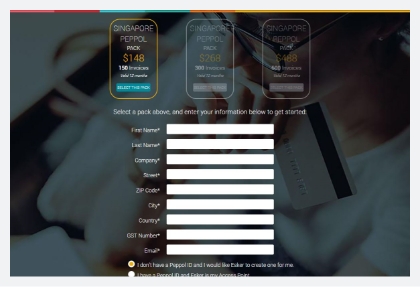 Step 2
Make sure your customer has a Peppol (InvoiceNow) ID, you can search for other businesses on the global directory by visiting this site: https://directory.peppol.eu.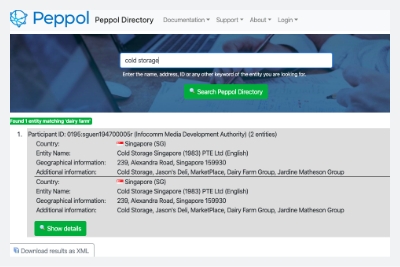 Step 3
Fill in the Excel template provided by Esker.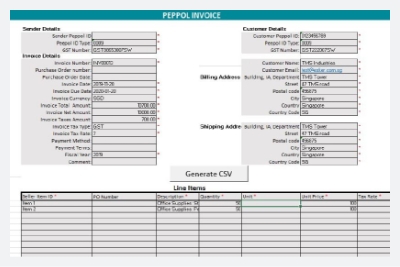 Step 4
Click on the button to generate the invoice and send the Excel file to the Esker email provided.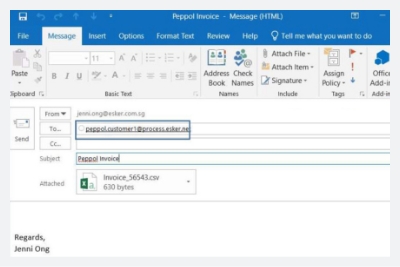 Step 5
Any Peppol (InvoiceNow) e-invoice received on Esker platform will be sent automatically to you via the email provided during your registration in a PDF format.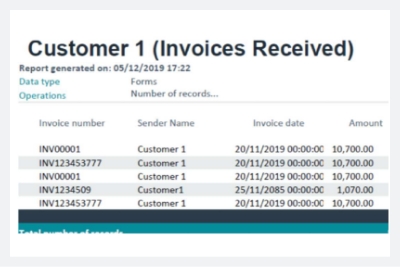 Do more with AI-Driven Automation
Ready for more? Explore what our Accounts Payable and Accounts Receivable Solutions can do for you
Frequently Asked Questions
1. How do I sign up for Peppol (InvoiceNow) e-invoicing?
Simply go to this page to purchase a Singapore Peppol (InvoiceNow) prepaid pack or contact an Esker representative if your monthly requirement is over 100 invoices a month to start e-invoicing.
2. Do I need to register my company for a Peppol ID? If yes, how can I do it?
Yes, your company needs to be registered in order to send and receive Peppol e-invoices.
Registration will be done by Esker (Access Point) once you have signed up.
3. What does e-invoicing mean and is it secure?
E-invoicing an automated process that allows companies in Singapore to create, send and receive invoices electronically using dedicated software or solutions. This removes the need for printing and mailing traditional paper invoices, streamlining the whole payment process.
Transacting e-invoices on the Peppol network will connect the seller and purchaser directly. The e-invoice will also be sent using an electronic standard and delivered directly to your Peppol registered customers in the network, following industry standard security protocols such as SSL encryption so that personal details cannot be intercepted by third parties during transmission.
4. If I am a current Esker customer, are there any changes in the current workflow?
Esker customers in Singapore will benefit from the Peppol e-invoicing software without any changes to their current process if you are using Esker Account Payable on Demand. For Account Receivable customers, you are eligible to activate the Peppol format and start transacting with other businesses on the network. To activate this option, please contact your Esker representative by email at info@esker.com.my or call +60 3-2781 8590.
5. How do I track how many invoices we have used?
You will receive a monthly report giving you the details of your Peppol e-invoices activity (invoice sent and received). A notification will also be sent if you are close to reaching the limit of your Peppol prepaid pack.
6. What if my volume is more than what is offered in the prepaid packages?
Contact an Esker representative who will help you with a review and suggest other options for large volume transactions. Email us at info@esker.com.sg or call +65 6735 6882.
7. What is an e-invoice in Singapore?
An e-invoice is a digital document that records the purchase of goods or services between two parties. It is an alternative to the traditional paper invoices used for transactions in Singapore and around the world. IMDA implemented the nationwide E-invoicing network in 2019 to help businesses improve efficiency, reduce cost, enjoy faster payment and stay green at the same time.
Peppol is an international network connecting different service providers who use a standardised protocol for exchanging business documents in order to facilitate seamless and secure communication between buyers and suppliers across borders. Peppol service providers have been appointed as gateways by both public agencies and private organisations within Singapore's network to provide authentication, validation, routing services and other related functions required under the framework.
8. Is e-invoicing mandatory in Singapore?
While e-invoicing is not mandatory in Singapore, the country has made several steps to incentivise organisations to join the Peppol network through the country's specific InvoiceNow network.
9. What is Peppol Singapore?
Peppol is part of Singapore's e-invoicing framework, a government-led initiative designed to facilitate better international trade, increase efficiency, and reduce costs.
10. What is a Peppol network?
A Peppol network is an e-invoicing system founded by the European Union that enables businesses to securely exchange purchase orders, delivery notes and invoices regardless of their location. It is designed to make trading more efficient between different countries in Europe with a single secure infrastructure and data format.
As an example of how it works, businesses in Singapore can join the Peppol network by enrolling with a Peppol service provider such as Esker. This allows them to connect directly with other certified suppliers and buyers, who are also using this same secure platform. Once connected, companies can send and receive documents such as purchase orders or invoices quickly and simply. All this is done without having to worry about technology compatibility issues or complex integration processes.
11. What is a Peppol invoice?
A Peppol invoice is a form of digital billing, also known as e-invoicing, that enables businesses to submit invoices in a secure and standardised format. It is based on the Peppol network, which is an EU-wide standard that has since been adopted by Singapore. As such, Singaporean businesses can now take advantage of this technology via accredited Peppol service providers like Esker.
12. Where is Peppol used?
Apart from European countries, Australia, Canada, New Zealand, Singapore, South Africa, the United States and more also use Peppol for e-invoicing.
Ask us anything
Questions about PEPPOL (InvoiceNow) e-invoicing? We're here to answer all your questions.

You're in good company. Explore some of the other companies and AP leaders that have benefited from automating their processes with Esker.