WHAT IS PEPPOL (InvoiceNow) E-INVOICING?
Organisations that leverage automation performs better than those that don't. That is why IMDA implemented the nationwide E-invoicing network in 2019 to help businesses improve efficiency, reduce cost and enjoy faster payment.
InvoiceNow also known as Peppol (InvoiceNow) allows an invoice to be sent digitally between the systems directly of your suppliers and buyers. The invoice is sent automatically to your supplier and customer's backend systems through a secure network and a standard format (Peppol InvoiceNow) therefore, it's seamless. 
How does Peppol (InvoiceNow) e-invoicing help your business?
Businesses are encouraged to adopt Peppol (InvoiceNow) e-invoicing initiative which will standardise the format of invoices and will benefit from:
Easy information retrieval


No more lost emails or hard copies. Peppol (InvoiceNow) e-invoicing will ensure delivery straight to other party's system.

Work internationally


with other businesses that are also registered on the platform, allowing business outreach.

Get paid faster


Enjoy faster payment cycles when you make it easier for customers to pay you with all relevant information readily available.

Reduce operational cost


With e-invoicing, businesses can automate and streamline their processes. Invoice data can be captured, managed and maintained effectively and efficiently with minimal labour and time required.


​
"By shifting to e-invoicing, the company significantly optimised its finance workflows, shortening processing time to just three days. Instead of being bogged down by paperwork, staff were now freed up to engage in more meaningful, client-fronting tasks—driving up productivity for the company as a whole"
Fujifilm Business innovation InvoiceNow Case Study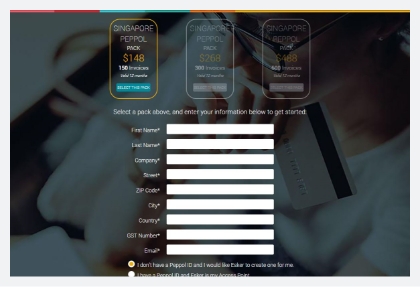 Step 2
Make sure your customer has a Peppol (InvoiceNow) ID, you can search for other businesses on the global directory by visiting this site: https://directory.peppol.eu.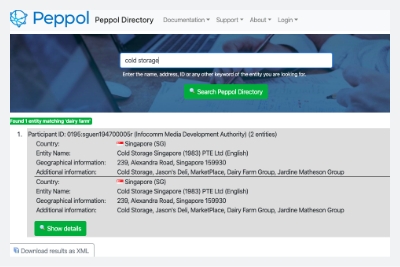 Step 3
Fill in the Excel template provided by Esker.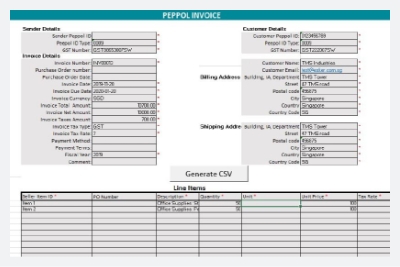 Step 4
Click on the button to generate the invoice and send the Excel file to the Esker email provided.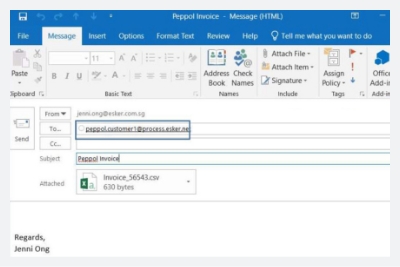 Step 5
Any Peppol (InvoiceNow) e-invoice received on Esker platform will be sent automatically to you via the email provided during your registration in a PDF format.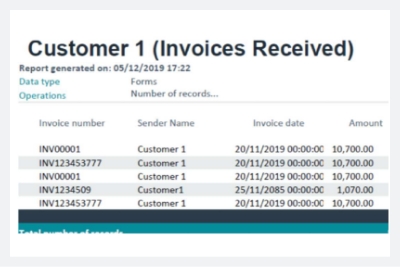 Do more with AI-Driven Automation
Ready for more? Explore what our Accounts Payable and Accounts Receivable Solutions can do for you
Frequently Asked Questions
How do I sign up for Peppol (InvoiceNow) e-invoicing?
Simply go to this page to purchase a Peppol (InvoiceNow) prepaid pack or contact an Esker representative if your monthly requirement is over 100 invoices a month.
Do i need to register my company for a Peppol ID and how?
Yes, your company needs to be registered in order to send and receive Peppol e-invoices. Registration will be done by Esker (Access Point) once you have signed up.
What does e-invoicing means and is it secured?
E-invoicing is a safe and secure method to send and receive invoices using an electronic format (e-invoice) instead of paper-based documents.
Transacting e-invoice on the Peppol network will connect the seller and purchaser together. The e-invoice will be sent using an electronic standard and delivered directly to your Peppol registered customers in the network.
If I am a current Esker customer, are there any changes in the current workflow?
Esker customers will benefit from the Peppol e-invoice without any changes to their current process if you are using Esker Account Payable on Demand. For Account Receivable customers, you are eligible to activate the Peppol format and start transacting with other business on the network. To activate this option, please contact your Esker representative by email info@esker.com.sg or call +65 (6735) 6882 (tel:+6567356882).
How do I track how many invoices we have used?
You will receive a monthly report giving you the details of your Peppol e-invoices activity (invoice sent and received). Notification will also be sent if you are close to reaching the limit of your Peppol prepaid pack.
What if my volume is more then what is offered in the prepaid packages?
Contact an Esker representative who will help you with a review and other options for large volume transactions. info@esker.com.sg or call +65 (6735) 6882 (tel:+6567356882).
Ask us anything
Questions about PEPPOL (InvoiceNow) e-invoicing? We're here to answer all your questions.

You're in good company. Explore some of the other companies and AP leaders that have benefited from automating their processes with Esker.