Process every fax, email and EDI order electronically.
Forward-thinking businesses understand — sales order processing is a key component to both short- and long-term success. Any loose ends can slow down the supply chain and harm customer service. That's where Esker comes in. Esker's automated order management system allows users to electronically process and track any sales order or customer claim with 100% accuracy, visibility and efficiency.
​
Rounded image:

Sub text:

automating orders with Esker

Rounded image:

Rounded image:

Sub text:

supported worldwide for OCR


​
50%
Moen cut its order processing time by 50% (4.5 to 2.5 minutes).
​
$250k
ASSA ABLOY saves an estimated $250,000 by reducing processing errors.
Unite key stakeholders to create an improved
customer experience. 
Far too often, key stakeholders simply don't have the time or technology to focus on the most value-added aspects of their job. Not with Esker. Because every sales order is electronic and fully visible, team members are freed up to optimise their daily tasks. The collaborative nature of the solution also allows the customer-supplier relationship to thrive.  
Persona Block Text:

Submit orders in any format
Get notified when order ships
Speed up delivery process

Persona Block Title:

Customer service REP (CSR)

Persona Block Text:

No more manual data entry
Access order data in real time
Track customer conversations

Persona Block Title:

Customer Service Director

Persona Block Text:

Monitor team efficiency & workload
Analyse order processing trends
Award top-performing CSRs

Persona Block Text:

Process EDI orders like other orders
Track all orders in real time
Keep existing EDI infrastructure unchanged

Persona Block Text:

Ensure on-time delivery
Identify & fix recurring issues
Access supporting documents instantly

Persona Block Text:

Get global visibility
Monitor order analytics over time
Schedule automatic reports
Let your customer service team shine.
Customer service can be a stressful, thankless department. Be the hero your team (and customers) need with Esker's Order Processing solution. With an easy-to-user interface, customisable dashboards and self-service portal, customer service leaders can:
Bring accuracy and security to every order processed
Eliminate backlogs from one day to the next
Expedite CSR productivity via automatic verifications
Free up time for upselling and more strategic customer service
Create a happier, more fulfilling environment for your team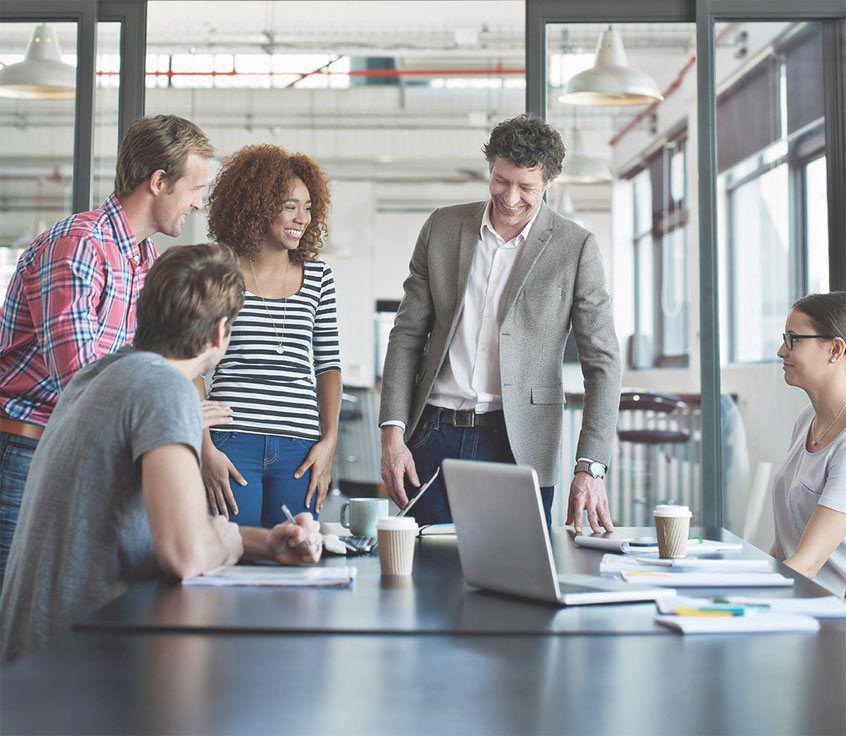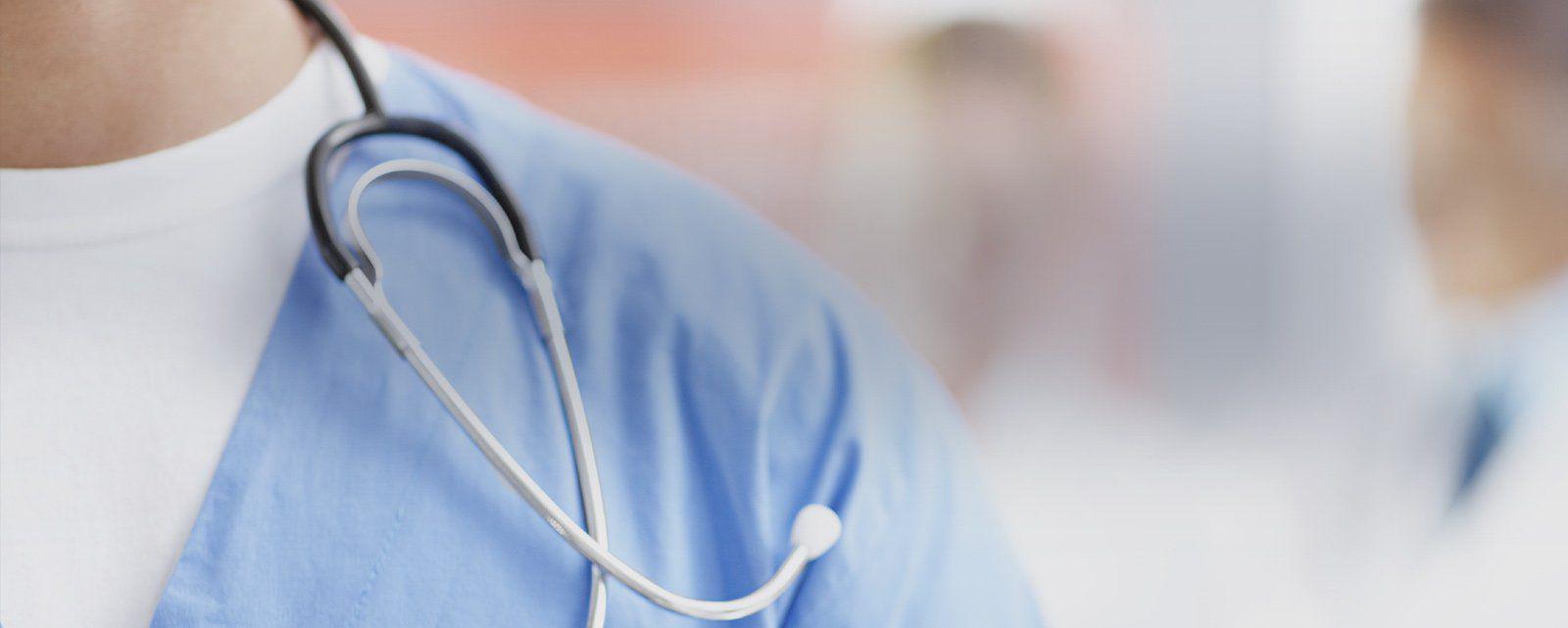 76% faster order processing
"Esker is enabling the customer service department to work
smarter, better and faster." 
Director of Global Customer Support — MEDRAD 
Critical metrics have nowhere to hide.
Identify urgent orders. Analyse the performance of team members. Monitor how many orders need to ship. There are a multitude of things order management folks wish they could do in a manual setting but simply can't. Esker's intelligent dashboards with KPIs make it possible thanks to pertinent order information being readily available at the click of a button, even on the go.
For compliance purposes, Esker also keeps a complete audit trail of every touch point within sales order processing, shedding light into who did what, when and where so that users can monitor whether or not the proper checks and validations took place.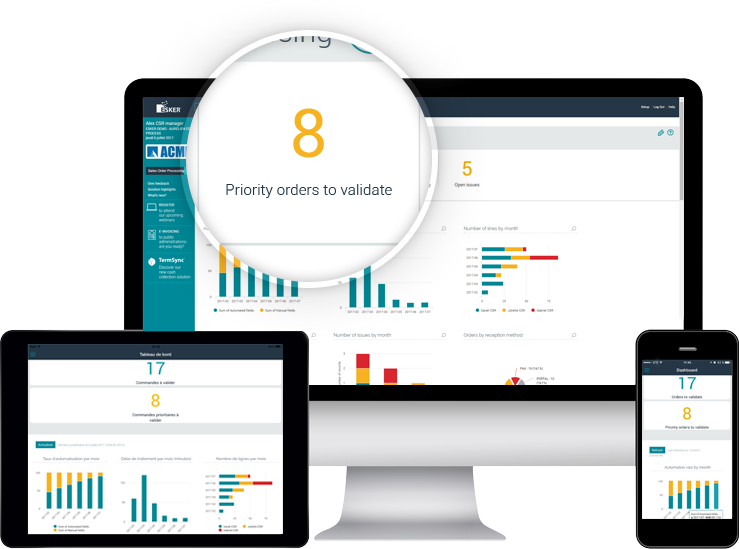 Process every complex order. Handle every EDI exception.
Resolving orders with EDI exceptions can be very time-consuming for CSRs and other team members. Esker fixes this issue, and the negative downstream effects it causes, by:
Transforming EDI flat file data into an easy-to-read PDF
Flagging discrepancies for CSRs to verify or correct
Learning and auto-correcting recurring discrepancies
Centralising all orders (including EDI) in one location
Stay zen when it comes to customer issue management.
Of course, orders aren't the only thing customer service is tasked with managing. Esker users can seamlessly manage customer claims from the same intuitive interface used for orders. With immediate access to any claim, CSRs are able to foster better customer relationships while simultaneously making their jobs far easier and less stressful.  
Order Processing Automation Stories with Inspiring Results

5 Amazing Esker Launches

Customer Service Workbook

How Automation Drives Customer Service Excellence

Aligning People, Process & Technology

An Action-Plan for Customer Service Excellence

The Total Economic Impact of Esker's Order Processing...

A Commissioned Study Conducted by Forrester Consulting
Ask us anything.
Have a question about order management automation? Shoot us a message and
one of our non-robot experts will give you an answer as soon as humanly possible.