OPTIMISING EVERY STEP OF THE P2P PROCESS
Many retailers face a growing realisation — become as efficient and agile as possible or fall behind in today's ever-evolving, tech-driven and increasingly competitive business landscape. As a result, the singular focus on front-end process improvements must also extend to back-end processes, particularly in the procure-to-pay cycle. This is where Esker comes into play.
Retailers can gain strategic value by digitally transforming P2P functions and freeing up their finance teams from manual processing, allowing them to focus on higher value work. Automating end-to-end P2P cycles creates a more productive work environment and streamlines workflows — enabling faster, more accurate invoice processing, significantly reduced costs and complete control over spend management.
CHALLENGES WE HELP RETAILERS SOLVE
Esker's P2P automation platform empowers retail companies to overcome their most prevalent industry-specific challenges, including:
Persona Block Title:

RIGID BUSINESS REQUIREMENTS

Persona Block Text:

One size does not fit all. Retailers must manage tolerances (e.g., under shipments, late shipments), surcharges and over-receipting to facilitate retail-specific requirements.

Persona Block Title:

INCREASED OPERATIONAL EXPENSES

Persona Block Text:

It's difficult to remain profitable when retailers face increasing costs of reaching consumers, a greater demand for quality and supply-chain transparency, and the push for green and ethical sourcing practices.

Persona Block Title:

INABILITY TO CONTROL SPEND

Persona Block Text:

Inefficient manual tasks drive up the cost of invoice processing and increase the risk of human error, making it difficult to manage spend and leading to maverick buying and non-compliance with company spend policies.

Persona Block Text:

It's common for retailers to have large numbers of suppliers across the globe, which increases the risk of duplicate invoices and duplicate payments. With little to no visibility into their invoice status (received, approved or paid), suppliers often submit invoices multiple times in an effort to get paid more quickly.

Persona Block Title:

MANAGING INVOICES FROM MULTIPLE JURISDICTIONS

Persona Block Text:

High invoice volumes from diverse geographical regions also means having to manage multiple languages, currencies and exchange rates. This can quickly become problematic in a manual environment, often leading to financial reporting errors and potentially serious non-compliance issues.

Persona Block Title:

DIFFICULT SUPPLIER MANAGEMENT

Persona Block Text:

Retailers struggle to manage supplier information manually, including contract renewals, compliance with industry certifications, insurances, and other policies. "Esker's Al-based recognition has significantly reduced manual work. We can now focus on improving other factors within our department. The interface is very user-friendly and easy for new employees to use right off the bat, which has helped us save time in new hire trainings."​
Wynona Ho │ Accounts Payable Manager │ Pet Lovers Centre
CREATE A TRANSPARENT SUPPLIER ECOSYSTEM
Enable supply-chain transparency, process compliance and business protection by verifying supplier data and ensuring regulations are met.
Simplify supplier onboarding and reduce the dependency on certain suppliers, allowing retailers to remain agile and change suppliers quickly.
Encourage supplier participation with an easy-to-use supplier portal, reducing supplier management and onboarding time and costs.

Provide self-service access to payment information via an online portal, allowing suppliers to track invoices and easily collaborate with chat tools.
Capture invoices in any format including paper, XML, PDF and EDI, enabling retailers to accept invoices from any and all suppliers.
Meet global compliance for companies operating with multiple languages, currencies and sites.
IMPROVE MARGINS TO COMPENSATE FOR RISING COSTS
Streamline payments and cash in order to pay suppliers on time and take advantage of early payment discounts.
Gain visibility into spend across brands and regions and achieve significant cost savings.
Increase auto-matching rates and boost straight-through invoice processing rates.
Decrease invoice processing time and enable KPIs monitoring to ensure positive financial performance and supplier relationships.

Leverage ERP investment with seamless solution integration with multiple ERP systems.
Access operational and financial metrics (processing time, productivity, performance, etc.) thanks to dashboards and analytics.
Increase productivity, as finance teams only having to process exceptions and can prioritise by key criteria. "We were also impressed with the cost, implementation time, solution ergonomics, and ease of use for our stores and accounting teams alike."​
Ann Favier │ Vice President and CFO │ Jardiland
REDUCE MAVERICK SPEND & INCREASE EMPLOYEE SATISFACTION
Facilitate process integrity and rapid user adoption
Control buying from only approved vendors and preferred catalogue product listings, gaining full visibility and control over what's being purchased.
Offer a user-centric journey and give employees the flexibility to use their preferred device from any location.
Create an internal e-commerce-like web store by broadcasting hosted catalogues or giving access to suppliers' online catalogues.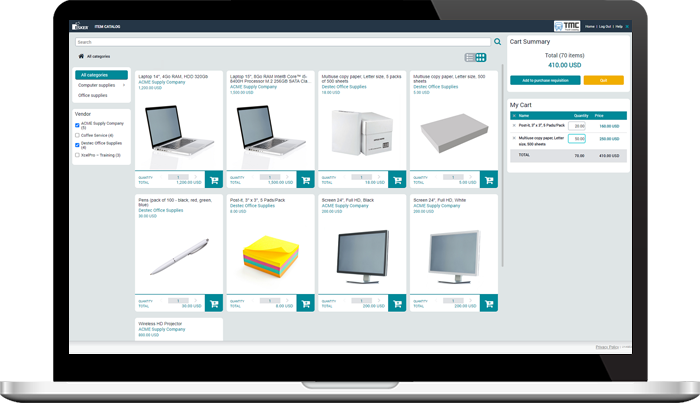 You're in good company. Explore some of the other companies and AP leaders that have benefited from automating their processes with Esker.